"The possibilities of permutation border on the infinite."
In celebration of Jorge Luis Borges and The Book of Imaginary Beings, a collection of new images by design students at Cambridge School of Art and Universidad Torcuato Di Tella.
---
1. Introduction

For this special Anglo-Argentine project, design students from
Cambridge School of Art
travelled 7000 miles (via wi-fi) to connect with design students from
Universidad Torcuato Di Tella
, Buenos Aires. Our purpose: to celebrate the Argentinian writer Jorge Luis Borges and his timeless Book of Imaginary Beings, and to give graphic form to the fantastical creatures he describes there. To achieve this feat of "mythographic design" we took our lead from Borges himself: "An imaginary being is no more than a combination of parts of real beings, and the possibilities of permutation border on the infinite." Our designers worked in just the same way, collaging their imaginary beings from the parts of existing images (all in the public domain, sourced from that most Borgesian of libraries, the Internet) — and recycling, repurposing, and reassembling them into vivid new iterations. Welcome to our imaginary menagerie...



---
2. Gallery

The Alicanto


Milagros Bogo

The Kami


Rocio Staneika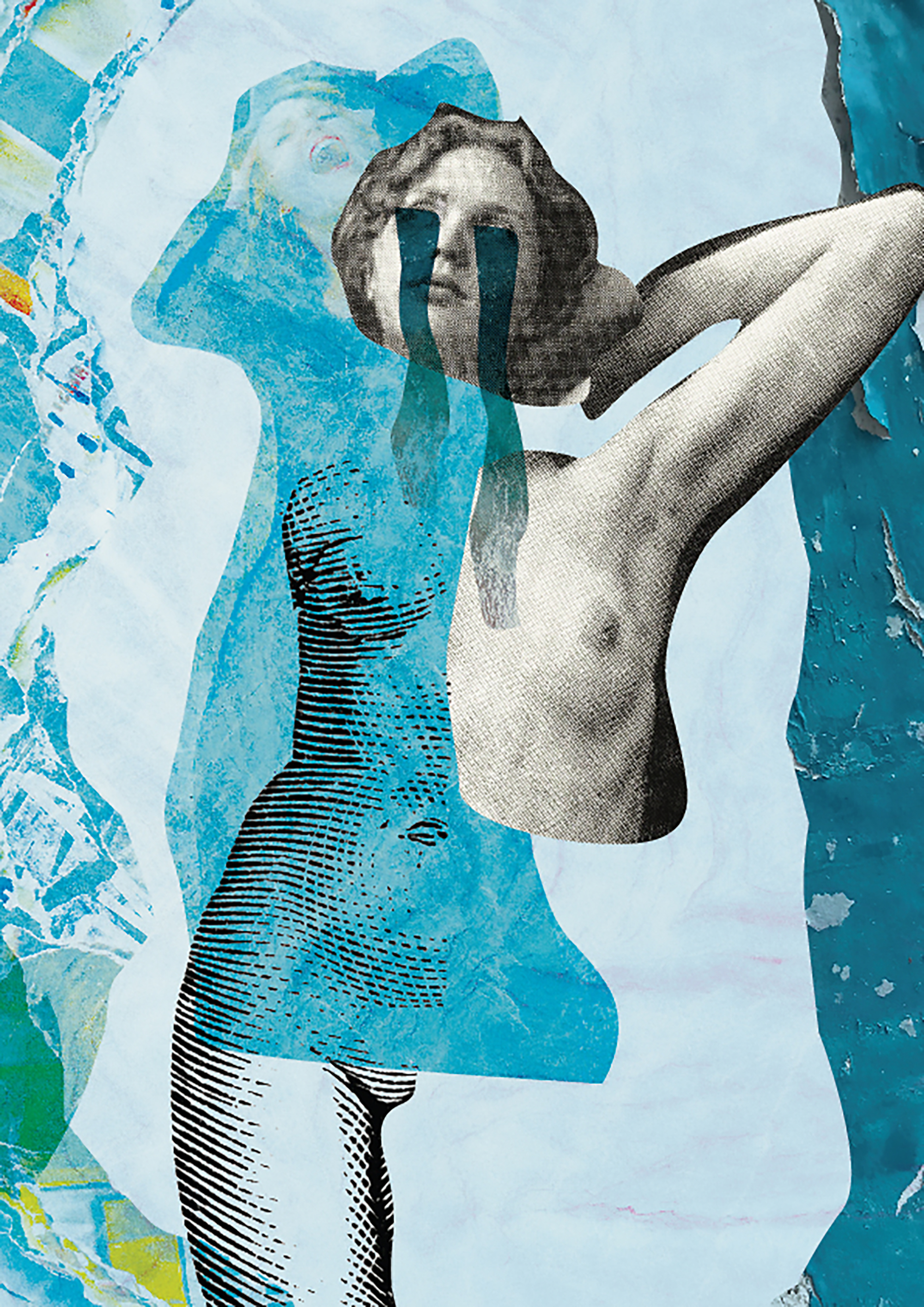 Scylla
Victoria Medina
An animal imagined by Kafka


Giuliana Lauria
The Elephant that Foretold...


Camila Ribotta Wilchowy
The Chinese Dragon
Martina Freytes

The Nymph
Sofia Boccadoro

The Monkey of the Inkpot
Beatriz Marques Dos Santos
Chronos or Hercules


Mobolaji Babalola
The Panther


Keiana Lathangue
The Animal Imagined by Poe


Lara Di Fiori
Swedenborg's Devils


Viviana Ghimbasanu
The Alicanto
Taisia Dormenco
The Cheshire Cat
Candela Kalipciyan
Icthyocentaurs


Gabriel Mendes
Abtu and Anet
Milagros Ruiz Berruti
The Lamias


Alexandra Nae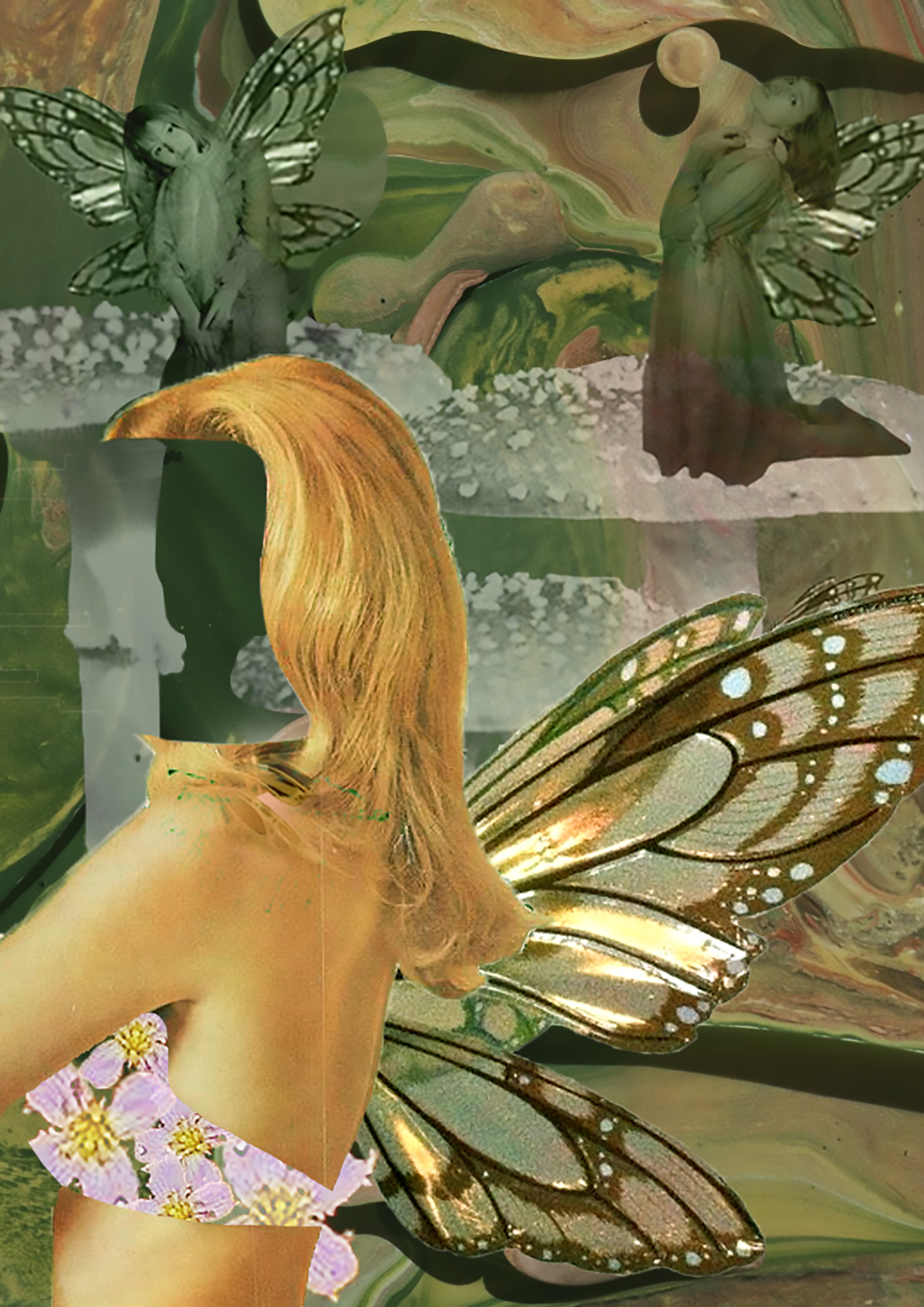 The Fairies
Agustina Zabalegui
Haokah, the Thunder God
Erin Fox
Cerberus
D'Anzar Lajorin
Sirens
Lara Lester
The Rukh
Harvey Laidlaw
The Celestial Stag
Martynas Kapsas
A Bao a Qu
Charles Isiofia
Burak
Manuela Villa
Garuda


Robyn McCurdy
The Kraken
Ben Sparkes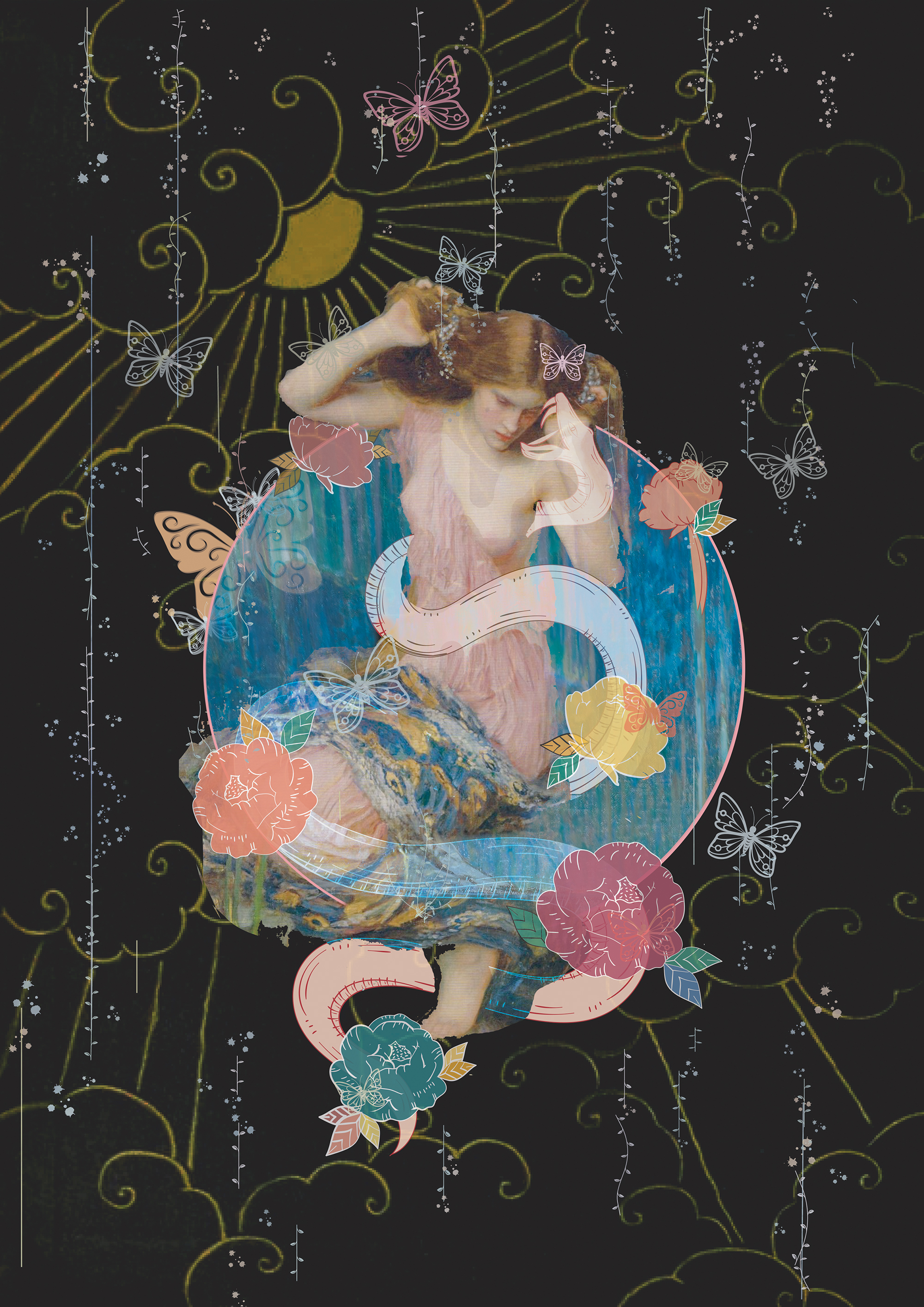 The Lamias
Fei Nie
The Mandrake
Amy Phongtar
Cerberus
Mara Lecoiu
Lilith
Jasmine Brooking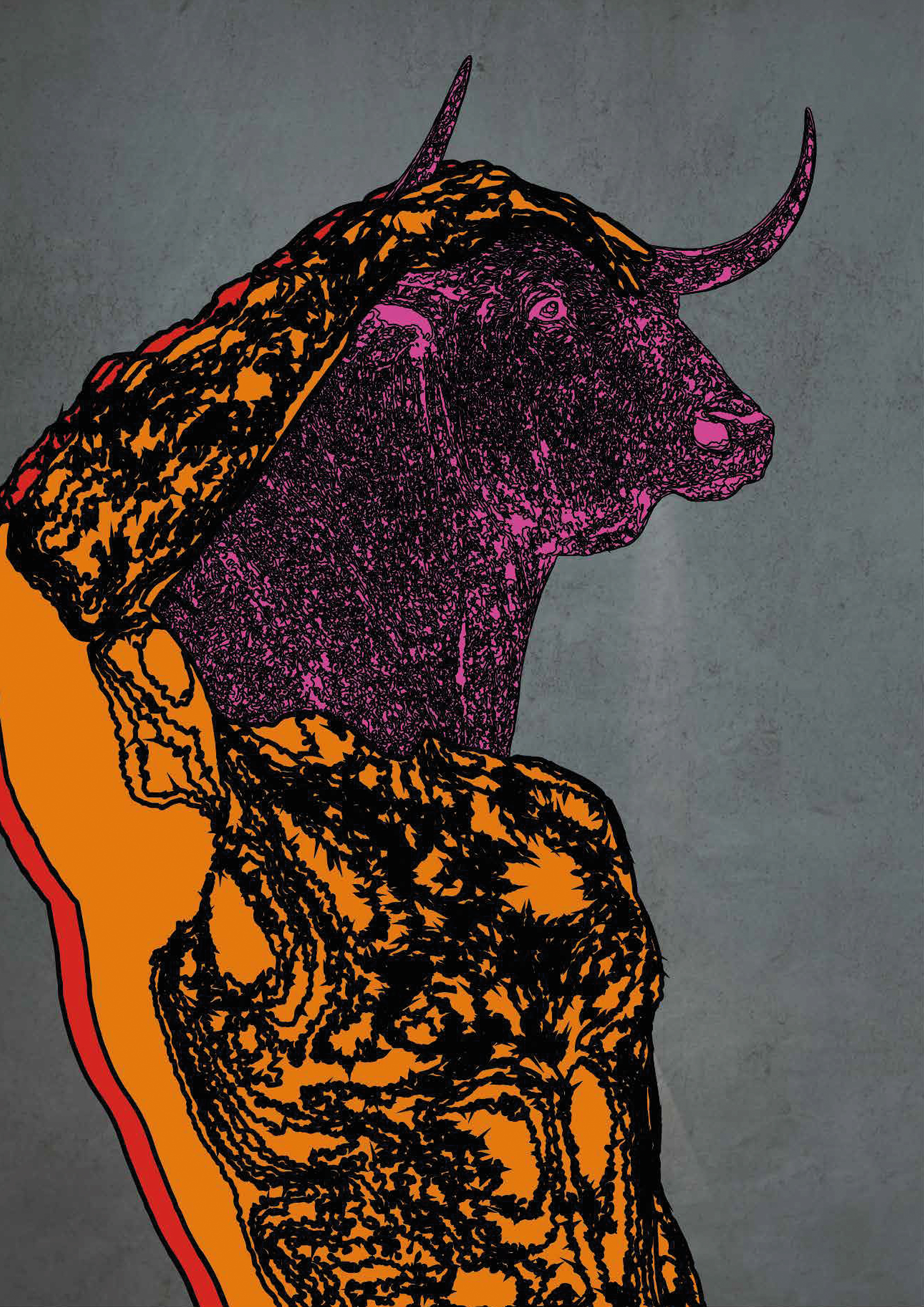 The Minotaur
Luke Nash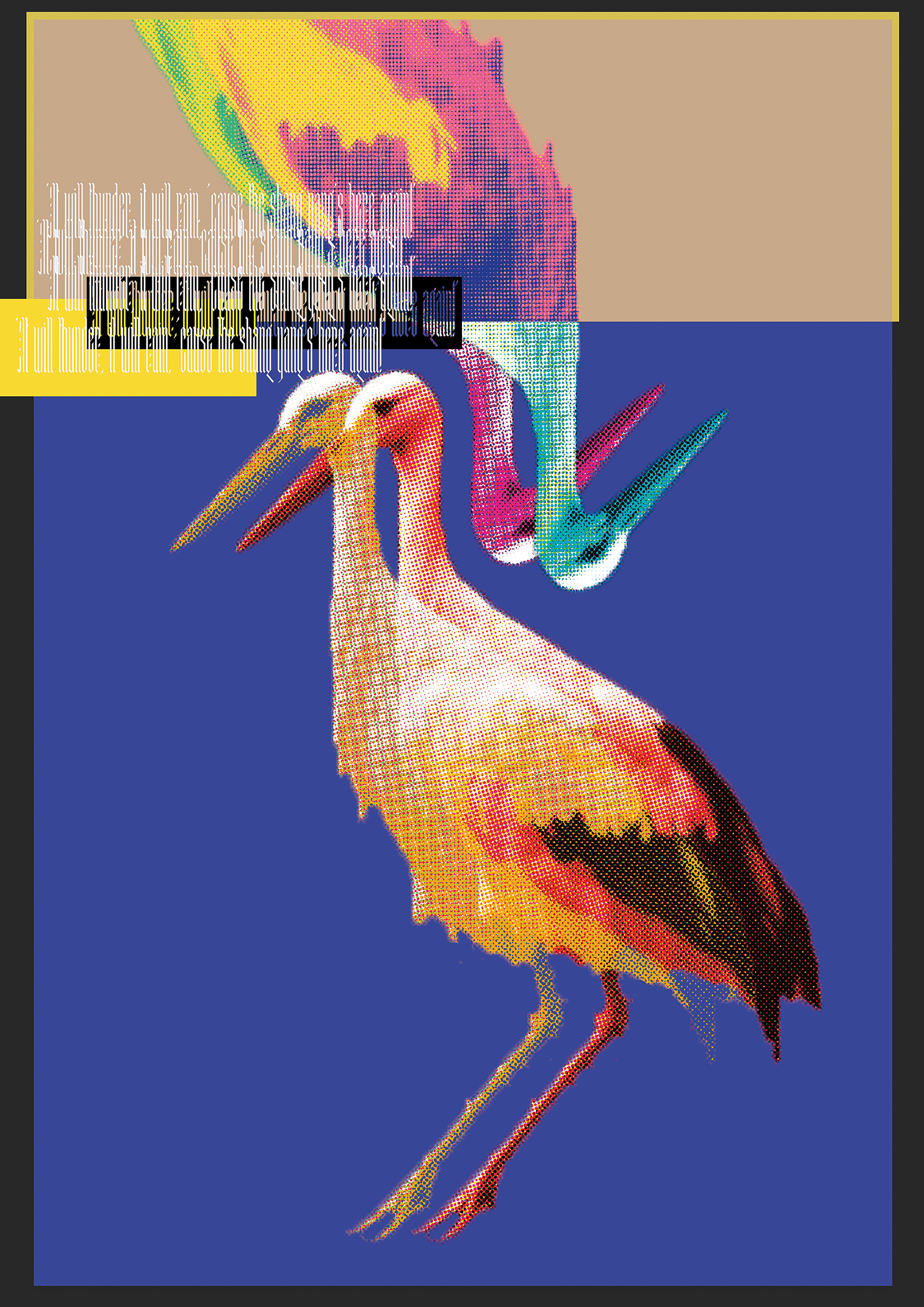 The Rain Bird


Amy England
The Centaur
Patrycja Radzka
An Offspring of Leviathan
Nikita Leigh
The Monkey of the Inkpot
Sandra Adeyinka
The Nagas
Chelsea Man
The Unicorn of China


Joanne Fu
The Chinese Fox
Erin Surkitt
The Nymphs
Patricia Ferreira
The Cheshire Cat


Diana Adriano
---
3. Essay

Borges and the Zoology of Dreams
"Of all man's instruments, the most wondrous is, no doubt, the book. The other instruments are the extensions of his body … But the book is something else altogether. The book is the extension of memory and imagination."
Borges, "El Libro"


Jorge Luis Borges photographed in 1973 in the National Library, Buenos Aires. (Sara Facio, Archivo General de la Nación Argentina.)


In his Book of Imaginary Beings, first published in 1957, Jorge Luis Borges gathers together 120 creatures from every corner of mythology, folklore, and literature. As each new being is brought to the page, Borges, serving as our omniscient companion and guide, tells us about their origins, their features, and their places in various cultures.
It's a magical little book, and the effect on the reader is of a thrilling return to childhood — as if visiting for the first time, wide-eyed and a little nervous, the zoo. But of course, this is no ordinary zoo, with giraffes, kangaroos, and wombats — though those creatures are strange enough. As Borges bids us in the preface to his book, "pass now from the zoo of reality to the zoo of mythologies, to the zoo whose denizens are not lions but sphinxes and griffons and centaurs. The population of this second zoo should exceed by far the population of the first, since a monster is no more than a combination of parts of real beings, and the possibilities of permutation border on the infinite..."
Some of the creatures in this "second zoo" may appear quite familiar to us, like the unicorn and the hippogriff. But as Borges leads us ever deeper into his menagerie, the exhibits become ever stranger. Here are the icthyocentaurs, "human down to their waist, with the tail of a dolphin, and the forelegs of a horse or a lion. Their place is among the gods of the ocean, close to the sea horses." Further along is the kujata, "a huge bull endowed with four thousand eyes, ears, nostrils, mouths, and feet." And here comes the rain bird, for whom, "when rain is needed, children hop up and down on one foot, wrinkling their brows and repeating: 'It will thunder, it will rain, 'cause the shang yang's here again!'"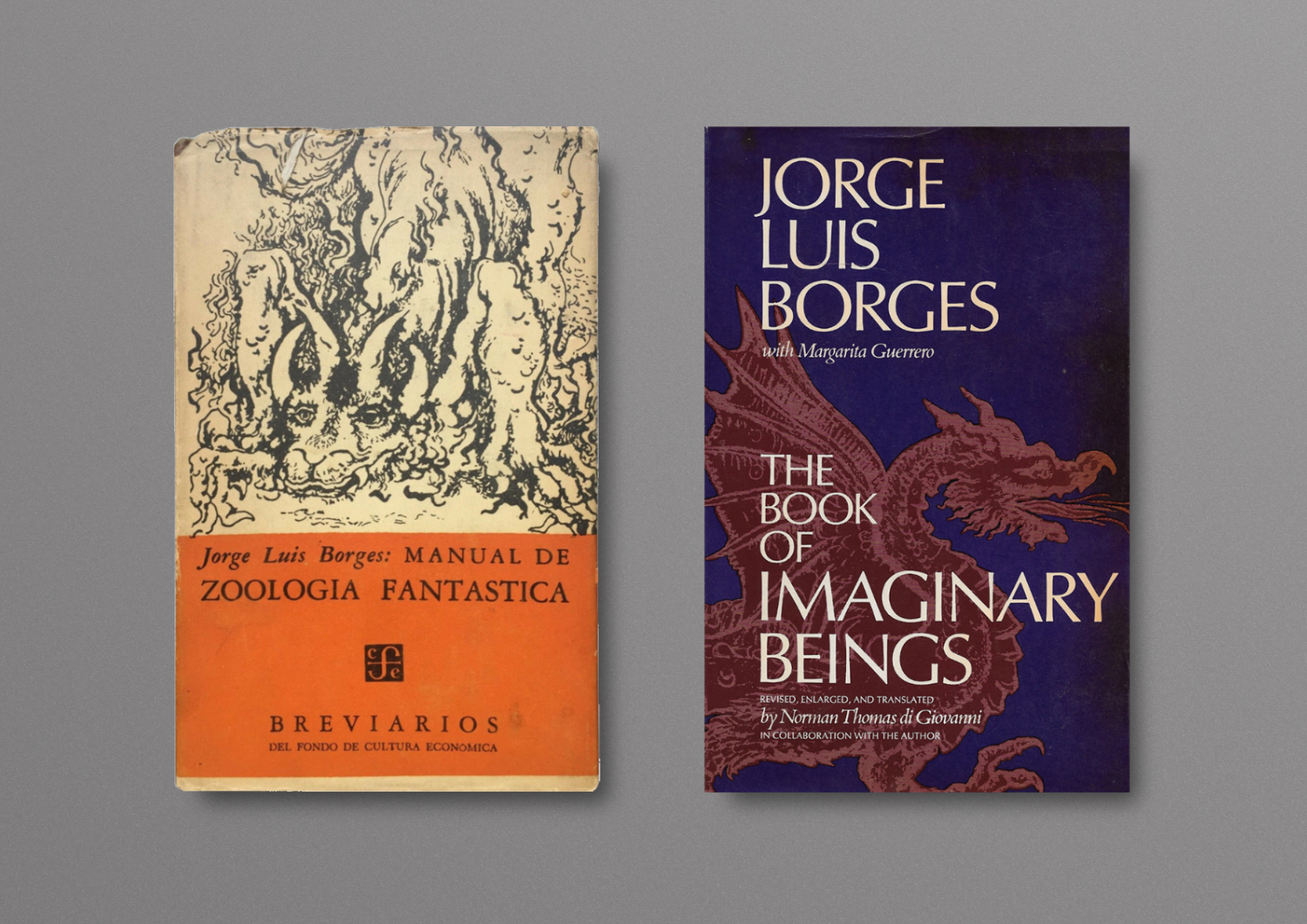 Left: first edition published in 1957 under the original Spanish title Manual de zoología fantástica. Right: expanded first edition in English, published in 1969, which takes its title from the revised Spanish edition, El libro de los seres imaginarios.


And so in characteristic Borgesian style The Book of Imaginary Beings presents itself on one level as a pocket bestiary, and on another as a portal to the history of human imagination, a kaleidoscopic time machine, reflecting and refracting all of humanity's dreams and desires — and its nightmares. With each turn of the page we may be transported from the mountains of ancient Greece to the plains of medieval China, from the frozen wastes of the Arctic tundra to the labyrinthine streets of Prague, and there experience a profound glimpse into the psyches of their inhabitants.
For Borges, compiling the book was as much a feat of memory and imagination as intellect, and even then he required some assistance from his friend Margarita Guerrero. Visually impaired from childhood, Borges was, when working on The Book of Imaginary Beings, virtually completely blind, and therefore spending almost all of his time trapped inside — or, we might say, free to roam — his internal world.
That world was enormous. Borges had spent his seeing years inhaling everything around him, reading, writing, and thinking about every area of the humanities so that, when his sight finally left him in his fifties, he was able to summon to mind everything he had once read, seen, thought, heard, or imagined, and then — spectacularly, famously — body it forth in prose.





Jorge Luis Borges, self-portrait, 1975. Borges drew this for the bookseller Burt Britton in the Strand bookstore, New York City. According to Britton, Borges, by this stage virtually completely blind, drew "using one finger to guide the pen he was holding with his other hand."




Witold Gombrowicz once described that prose as being "like iced fireworks", and I have yet to read a better description of Borges' virtuosity. But The Book of Imaginary Beings is deliberately not as rich or complex a feast as some of his other, more celebrated works. Neat, accessible, and relaxed in tone, it is also, at times, amusingly vague. It is as if Borges is, as he speaks, casually bringing facts and features to mind, moving mentally through histories and landscapes and dimensional spaces, settling for a moment here and there to point with his cane at this detail or that, extemporising and entertaining us as he goes.
Borges' sight may have failed him, but his was a mind that could travel without moving. And so The Book of Imaginary Beings remains that rarest of things: an absorbing work of scholarship that is also, in itself, a supreme work of the imagination.
Nicholas Jeeves, CSA



---
4.
Voices

"Throughout these few weeks I've regained the enthusiasm that learning gives me. Approaching literature from a design perspective made me very intrigued and it is something I'd like to explore more in the future. And, in mentioning literature, one of the greatest things this course has made me practice is the conceptualisation and the visual development of a personal point of view. The UK students and teachers were always very kind and warm to work with. This is the first time I've worked with people abroad and it's been completely extraordinary. The cultural exchange and the different perspectives have opened up my mind to new horizons and have shown me the richness of working in a varied community. Thank you so much for this opportunity. I will remember it with a smile and will look back on it with happiness."
Milagros Bogo, UTDT

"I really liked this project, it helped me to understand that nothing is perfect and that changes can always be made, you only need to start working and the ideas will come. I felt that working for this project was a way of bringing back creativity."

Viviana Ghimbasanu, CSA

"I'm grateful to have experienced such an interesting project, sharing different points of reality... I developed my skills and I really appreciate all the feedback I received from everyone."
Gabriel Mendes, CSA

"It was the project I enjoyed the most this trimester. I appreciated all the students from Argentina, they were warm and welcoming. I will miss all the different outlooks and feedback that the students and the lecturers gave me during this project. I hope we can all stay in touch and build upon this some more."

Chris Kyriakopoulos, CSA

"This was an awesome project that opened up my mind. I rarely work with the iteration techniques we used: those little changes help to improve your overall work and see side-by-side comparisons of what you've made. It was an extremely interesting and fun experience. I was always waiting for Wednesdays to attend the meetings. Thanks for this wonderful course!
Lara Lester, UTDT

"I really enjoyed this project. It was very enriching and it helped me grow not only academically but also personally. I am so enthusiastic with the whole idea of approaching literature from a design perspective, such as using collage as a technique to visualize a story, that I'm thinking of creating new collages based on a book called "Cuentos de la selva" by Horacio Quiroga. I think this is the most valuable thing I have taken from the project, the enthusiasm it leaves once it has finished. Thanks for this opportunity! I loved it!"
Camila Ribotta Wilchowy, UTDT




---
5. Reflection

We couldn't have hoped for a better partner for this project than Di Tella. WIth both countries in strict lockdown, perhaps we all needed to feel that we were still able to make new friends, and to experience — if only remotely — some of the joys of travel. To find ourselves working in such good company, and to experience first-hand the Argentines' legendary genius for friendship, was a wonderful antidote to the lockdown doldrums.
Over six weeks of hugely enjoyable weekly workshops (held via Zoom, with artwork shared via Slack and Mural) we learned how Borges still has the power to thrill the young; how illustration needn't mean drawing; and how an iterative approach to the design process can reveal unanticipated joys. We also coined a useful term for what we were doing — "mythographic design" — and, thanks to Borges, discovered a new job description for ourselves that goes beyond "designer", "artist", or "illustrator": "hacedor". We even adopted a proud war-cry for the project: "KEEP IT SYMBOL!".
We all hope to revisit the project again next year, to feed our growing friendship and to give visual form to yet more of Borges' imaginary beings. There are 120 of these in Borges' book, so we have plenty of material still to inspire us. We also hope, one day, to exhibit the images in both Cambridge and Buenos AIres. Perhaps when the world is a little less restricted, we can do so – and we hope you'll visit us there.
Nicholas Jeeves, CSA

---
6.
Tutors
CSA
Nicholas Jeeves
Danielle Rippengill

UTDT
Enrique Longinotti
Clara de Olano



---
7. Sources

The Biodiversity Heritage Library on Flickr

,

The British Library on Flickr

,

The Calisphere Collections

,

ClipArt ETC

,

Pexels

,

The Public Domain Review Image Collections

,

RawPixel Public Domain

,

Rijksmuseum Rijksstudio

,

Smithsonian Open Access

,

Unsplash

,

Wikimedia Commons
---
8. Thanks

Milagros Acosta, Marta Almeida,

Cargo

, Luciana Gerac, Alex Markman, Laura Santamaria, Claudia Walls




---
9. Contact

CSA
Nicholas Jeeves
nicholas.jeeves@aru.ac.uk

UTDT
Clara de Olano
clara.deolano@fadu.uba.ar



---
---